A900 officially announced
September 9th, 2008 - 04:06:02 PM: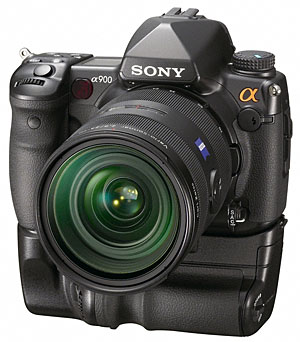 Finally, Sony has presented their long-awaited Flagship DSLR, and it is indeed named α900. This camera has started as a first prototype (actually, more of a mock-up) at PMA 2007. An updated prototype has been shown at PMA 2008, with the announcement of it having a full-frame 24 megapixel sensor and SSS.
Now Sony has presented the final product. All the tech data as we know it today can be found here. This tech data sheet will surely be updated a few times in the near future. You can subscribe to the web feed of the data sheet to not miss an update.
Product highlights:
full-frame sensor
24 MP
5 fps
ISO 100–6400
SSS, as usual with all Minolta AF, Sony Alpha and Carl Zeiss ZA lenses
auto-crop mode when DT lens is mounted
intelligent preview
Sony has announced the camera to be in shops in the fall. You will also be able to see it at Photokina at the end of the month.

Categories: Cameras (Sony) • Archive of all entries