Minolta/Konica Minolta/Sony Alpha lens data
Please note that this page only provides technical information. This is not an online shop. Don't send requests for price quotes etc. I can not sell you anything that's listed here.
This is a tech data sheet of all Minolta/Konica Minolta/Sony Alpha lenses. All lenses are listed, including older versions, and it contains more tech data than the official brochures, e. g. whether and when the filter turns.
Lenses are color-coded as follows:
Announced lens
Current lens
Discontinued lens
Brands are highlighted as follows:
Minolta, Konica Minolta
Sony
Carl Zeiss
Whenever there's a "?" or empty space in the table, I do not know the data. If you have that specific lens, or when you have a model not listed yet, and you can provide the data, please contact me and I'll update the table as soon as possible.
Data for announced products should be considered preliminary. Exact data often isn't known until after the actual release. You should not rely on data for announced products to be correct.
Contributors
The following people have contributed to this page:
Marc Adam
, Matthias Andree
, David Bannister
, Annet Beumer
, Marko Bilic
, Stefan Bucher
, Jeff Burwell
, Bernard Caron
, Ed Ching
, Chuck Cole
, Marcel de Boer
, David Defoort
, Howard Emerich
, Marijn Engels
, Marcin Fal
, Anthony Fiat
, Robert Finnis
, Wojciech Gazda
, Kelsey George
, Emil Grass
, Klaus Ipsen
, Henrik Ivert
, Dalibor Jelinek
, Marek Kaszycki
, Vladislav V. Kornienko
, Rudolf Kretschmer
, Michal Kropa
, Arne Krüger
, Gregg Lee
, Josef Nemecek
, Matthias Paul
, Jim Peterson
, Sylwester Pietrzyk
, Alberto Regini
, David Remahl
, Jim Rice
, Henrik Robeck
, Jos Roost
, Andrew Rumyantsev
, Øyvind Sagberg
, Mathias Schwenke
, Mladen Sever
, Sergey V. Smagin
, Ben Spada
, Olaf Ulrich
, Wim van Straten
, Magnus Wedberg
, Lyle Whyatt
, Frank Wiesenberg
, Martijn Wijns
, Gordon Wilkinson
, Christian Willems
, Les Young
Thanks to all!
Last update: February 25th, 2018
Fixed focal length (E-mount)

Sony E 16/2.8
SEL-16F28
Sony E 20/2.8
SEL-20F28

Carl Zeiss Sonnar T* E 24/1.8 ZA
SEL-24F18Z

Sony FE 28/2
SEL-28F20

Sony E 30/3.5 Macro
SEL-30M35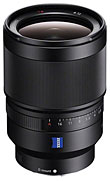 Zeiss Distagon T* FE 35/1.4 ZA
SEL-35F14Z

Sony E 35/1.8 OSS
SEL-35F18

Carl Zeiss Sonnar T* FE 35/2.8 ZA
SEL-35F28Z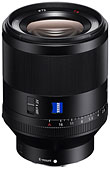 Zeiss Planar T* FE 50/1.4 ZA
SEL-50F14Z

Sony E 50/1.8 OSS
SEL-50F18
Sony FE 50/1.8
SEL-50F18F

Sony FE 50/2.8 Macro
SEL-50M28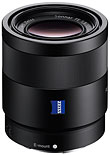 Carl Zeiss Sonnar T* FE 55/1.8 ZA
SEL-55F18Z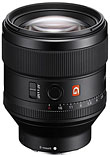 Sony FE 85/1.4 GM
SEL-85F14GM
Sony FE 85/1.8
SEL-85F18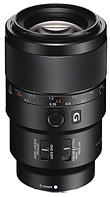 Sony FE 90/2.8 Macro G OSS
SEL-90M28G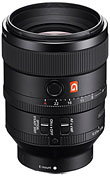 Sony FE 100/2.8 [T5.6] STF GM OSS
SEL-100F28GM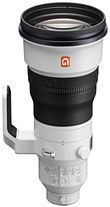 Sony FE 400/2.8 GM OSS
?
Zooms (E-mount)

Sony E 10-18/4 OSS
SEL-1018
Sony FE 12-24/4 G
SEL-1224G
Sony FE 16-35/2.8 GM
SEL-1635GM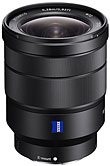 Zeiss Vario-Tessar T* FE 16-35/4 ZA OSS
SEL-1635Z

Sony E PZ 16-50/3.5-5.6 OSS
SEL-P1650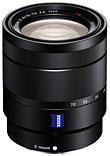 Carl Zeiss Vario-Tessar T* E 16-70/4 ZA OSS
SEL-1670Z

Sony E 18-50/4-5.6
SEL-1850

Sony E 18-55/3.5-5.6 OSS
SEL-1855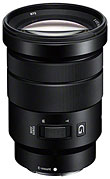 Sony E PZ 18-105/4 G OSS
SEL-P18105G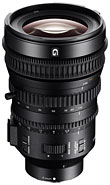 Sony E PZ 18-110/4 G OSS
SEL-P18110G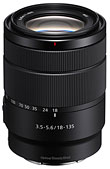 Sony E 18-135/3.5-5.6 OSS
SEL-18135

Sony E PZ 18-200/3.5-6.3 OSS
SEL-P18200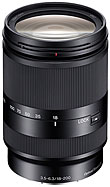 Sony E 18-200/3.5-6.3 OSS LE
SEL-18200LE
Sony E 18-200/3.5-6.3 OSS
SEL-18200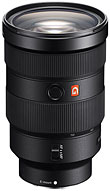 Sony FE 24-70/2.8 GM
SEL-2470GM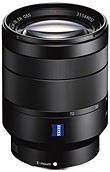 Carl Zeiss Vario-Tessar T* FE 24-70/4 ZA OSS
SEL-2470Z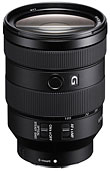 Sony FE 24-105/4 G OSS
SEL-24105G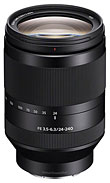 Sony FE 24-240/3.5-6.3 OSS
SEL-24240
Sony FE 28-70/3.5-5.6 OSS
SEL-2870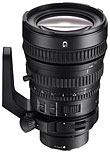 Sony FE PZ 28-135/4 G OSS
SEL-P28135G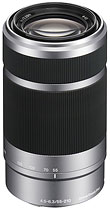 Sony E 55-210/4.5-6.3 OSS
SEL-55210
Sony FE 70-200/2.8 GM OSS
SEL-70200GM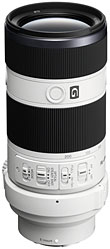 Sony FE 70-200/4 G OSS
SEL-70200G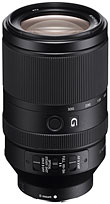 Sony FE 70-300/4.5-5.6 G OSS
SEL-70300G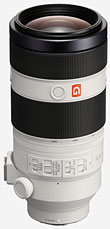 Sony FE 100-400/4.5-5.6 GM OSS
SEL-100400GM
Teleconverters (E-mount)

Sony FE 1.4× Teleconverter
SEL-14TC
Sony FE 2× Teleconverter
SEL-20TC
Wide-angle converters (E-mount)

Sony FE Fish-Eye Converter
SEL-057FEC

Sony Fish-Eye Converter 2
VCL-ECF2

Sony Fish-Eye Converter 1
VCL-ECF1

Sony FE Wide-Angle Converter
SEL-075UWC

Sony Wide-Angle Converter 2
VCL-ECU2
Sony Wide-Angle Converter 1
VCL-ECU1
Fixed focal length (A-mount)

Sony Alpha 16/2.8 Fisheye
SAL-16F28

Minolta AF 16/2.8 Fisheye
2578-110

Sony Alpha 20/2.8
SAL-20F28

Minolta AF 20/2.8 new
2641-110

Minolta AF 20/2.8
2579-100

Carl Zeiss Distagon T* 24/2 ZA SSM
SAL-24F20Z

Minolta AF 24/2.8 new
2642-110

Minolta AF 24/2.8
2566-110

Minolta AF 28/2 new
2668-118

Minolta AF 28/2
2596-100

Sony Alpha 28/2.8
SAL-28F28

Minolta AF 28/2.8
2557-100

Sony Alpha DT 30/2.8 Macro SAM
SAL-30M28
Sony Alpha 35/1.4 G
SAL-35F14G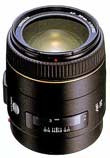 Minolta AF 35/1.4 G new
2666-118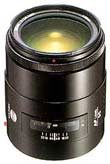 Minolta AF 35/1.4 G
2591-110

Sony Alpha DT 35/1.8 SAM
SAL-35F18

Minolta AF 35/2 new
2667-118

Minolta AF 35/2
2597-110

Minolta AF 3×-1×/1.7-2.8 Macro
2594-116

Carl Zeiss Planar T* 50/1.4 ZA SSM
SAL-50F14Z

Sony Alpha 50/1.4
SAL-50F14