IFA 2008 preview
July 28th, 2008 - 09:13:02 PM: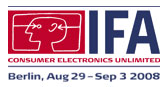 On friday, August 29th, the IFA (Internationale Funkausstellung) opens in Berlin, Germany. It's the largest trade fair for consumer electronics.
Sony usually has a large presence at IFA (in fact, it's the largest booth of the entire fair), showing all their latest products. DSLRs are usually also not the focus on this trade fair, especially when this year Photokina takes place just one month later. But there's still a chance that Sony announces new DSLR products, considering that DSLRs are products of Sony's Electronics division. In any case, I'll keep you updated.
The main Sony press conference is on August 28th at 12:00 local time (UTC+2).
Links:
Categories: Industry • Archive of all entries