Photokina 2008 preview
September 10th, 2008 - 09:39:23 AM: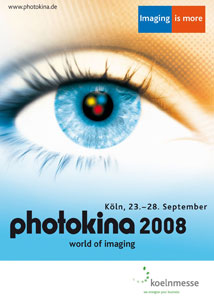 On tuesday September 23rd Photokina will open its gates to visitors. Photokina, if you don't know it already, is the largest trade fair of the photographic industry in the world and takes place every two years in Cologne, Germany. The large photography brands take the opportunity to introduce their latest products there.
Of course, this installment of the fair is of special interest to us Alpha mount users, because we expect Sony to show their recently released DSLR α900 to the general public there. Also expected are the new HVL-F58AM flash, maybe more accessories, the new 70-400/4-5.6 G SSM and Vario-Sonnar T* 16-35/2.8 ZA SSM and maybe a few more of the lenses that were previewed at PMA 2007 and PMA 2008.
Here's the timeline (all local time, UTC+2):
Sept. 23rd, 10:00

Photokina opens

Sept. 28th, 18:00

Photokina closes
If there are any major announcements they will surely be made in the first few days. I will follow the events and keep you updated. Furthermore, I will attend Photokina on Saturday myself to get a first-hand impression. You will read about this here during Saturday and Sunday.
Links:
Categories: Industry, Cameras (Sony), Lenses (Sony), Flashes (Sony) • Archive of all entries