Sony announces AF 500/4 G SSM lens
February 8th, 2012 - 08:44:29 AM:
Sony has today announced their long-awaited AF 500/4 G SSM lens for release in March 2012.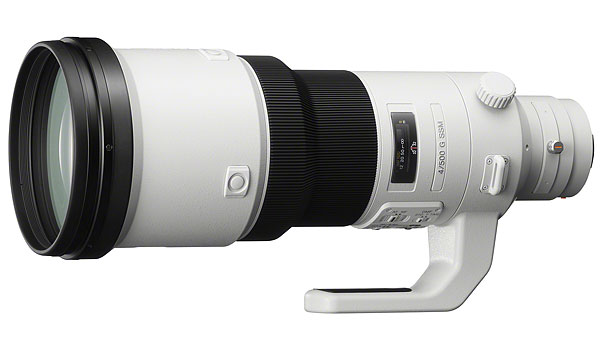 Sony Alpha 500/4 G SSM
Little has changed compared to the last version that Sony has shown. Most obvious is the change of the finish. Sony seems to move away from their silver-colored lenses again. The final version of the 500/4 is painted plain white, with no shiny patches of orange. The lens in its official finish fits well into the line of earlier G lenses, like the 70-200/2.8 and the 300/2.8, with only the 70-400 sticking out like a sore thumb.
Sony has also released the final technical data. There are also few surprises there. The lens is officially sealed against moisture and dust, and a new lens element coating technology promises to cut flare to a new low.
Also as expected, the lens is compatible with the 1.4× and 2× teleconverters. AF is maintained with the 1.4×, with the 2× only manual focus is possible.
Also see:
Categories: Lenses (Sony) • Archive of all entries