Sony releases four new DSLRs
August 24th, 2010 - 11:04:20 AM:
The rumors have been flying for a few weeks now, and today Sony has indeed announced four new DSLRs.
First, there are two new "traditional" DSLRs:
DSLR with Live-View via secondary sensor, 14 MP APS-C sensor, HD video recording
Same as DSLR-A560, but with 16 MP sensor
These two new cameras are direct replacements of the DSLR-A500/550 cameras, just with video recording added.
The other two DSLRs are true innovations.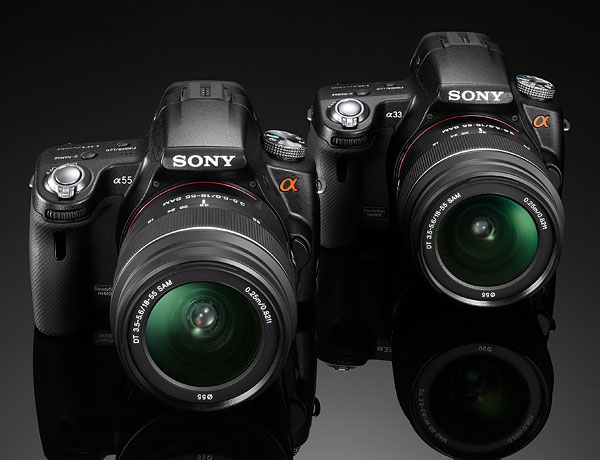 SLT-A55V and SLT-A33
DSLR with Live-View via main sensor, pellicle mirror, electronic viewfinder, 14 MP APS-C sensor, HD video recording
Same as SLT-A33, but with 16 MP sensor, higher frame rate and GPS
The innovation here is that both cameras feature a semi-transparent (pellicle) mirror. It deflects 1/3 of incoming light towards the phase detection AF sensors, and 2/3 of the light are passed through to the main sensor. The mirror stays down when recording images and video. There is no optical viewfinder. The viewfinder image is taken by the main sensor and displayed either on an electronic 1.15 M-dot LCD in the viewfinder housing, or on the large rear display. This is a variation of what I have described in "The Future of Digital SLRs".
Sony's earlier implementation of Live View got around the problem of slow video AF by placing a small secondary sensor in the viewfinder housing and tilting one of the viewfinder prism mirrors to direct the viewfinder image towards this sensor instead of the ocular. This way it was possible to still use the faster phase detection AF system even during Live View. But the disadvantages of traditional SLR designs remained.
With the new design Sony has taken the big step forward to throw out (almost) all elements of traditional SLRs, the main mirror and optical viewfinder. The big disadvantage, slow video AF, has been avoided by employing a pellicle mirror with phase detection AF sensors. The disadvantage of pellicle mirrors, light loss for the image sensor, is compensated by reducing the noise from the sensor so that it can be operated at higher amplification factors to achieve the nominal ISO ratings.
The advantages of such a design have already been outlined in above essay:
no mechanical efforts for the mirror mechanism, matte screen, viewfinder prism
no mirror slap
much shorter viewfinder blackout (caused only by the shutter, not by the mirror)
higher frame rates can be achieved without higher mechanical effort (up to 10 fps)
100% viewfinder image is easy to achieve
electronic viewfinder can be adjusted to low light level (especially during DOF preview), and can easily display an enlarged viewfinder image, grid lines or live histogram, etc.
1200 segment ambient metering
AF in video mode just as quick as in still image mode
Sony should not stop at this point. Once you have introduced electronic viewfinders, it's easy to make them tiltable or even detachable, giving DSLRs even more flexibility.
Meanwhile, the "Advanced DSLR" previewed on PMA is not among the new cameras. It also remains to be seen if this advanced DSLR will be of the more traditional design or of the new pellicle mirror design.

Categories: Cameras (Sony) • Archive of all entries