Sony releases DSLR-A850, affordable full-frame 24 MP, 28-75/2.8 SAM
August 27th, 2009 - 03:45:09 PM:
Sony has released a new DSLR, the α850. It is basically a α900 with reduced shooting performance (3 fps instead of 5) and smaller viewfinder (98% instead of 100%), sold at a lower price.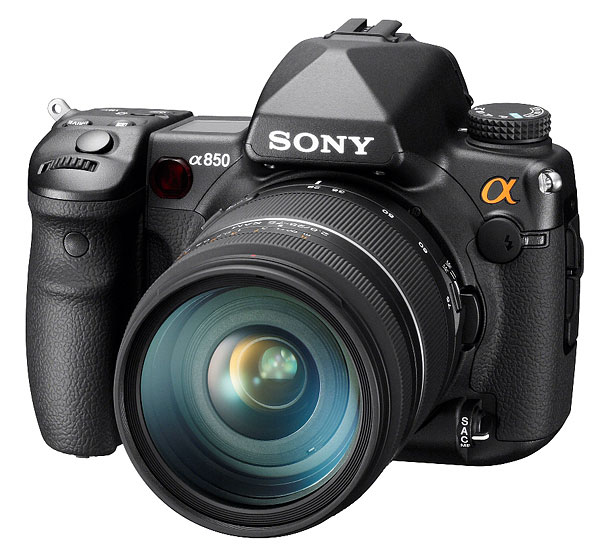 Sony DSLR-A850
Another small difference to the α900 is that it does not come with the wireless commander RMT-DSLR1. This has to be purchased separately.
This camera brings full-frame DSLRs to an even larger target market. At the suggested retail price of 2000 € (α900: 2800 €) it will attract potential buyers that previously could not or did not want to afford the α900. (of course, street prices will be lower)
To get the price down some of the more expensive parts of the α900 had to be dropped. The 98% viewfinder is considerably cheaper to make than the 100% viewfinder (because it's not only the viewfinder prism, but also the matte screen and the mirror that is smaller and cheaper). Furthermore, the α850 only has a reduced processing power, like the other lower-spec Sony DSLRs. This reduces the frame rate to 3 fps.
Everything else is essentially unchanged compared to the α900. The goal surely was to re-use as much technology and manufacturing capacity as possible, but this also means that several improvements from the DSLR-A3xx series and features missing from the α900 are not implemented, such as:
still no built-in flash. This is a big one. For any flash capability, you have to buy an external flash, and for wireless flash, you have to use the HVL-F20AM or HVL-F58AM as the controller.
no BRAVIA sync
no continuous self-timer
still the non-standard USB connector with analog TV out. Sony should have dropped this feature and used a standard Mini-B USB connector. HDMI is the standard digital video interface for years now, and the α850 can do just fine without an analog TV output.
no automatic display brightness control
no live view
no video
So the α850 is really just a cheaper α900. People who where hoping for a full-frame version of the α700 or were hoping for live view and video in a higher class body will surely be disappointed. If you did not buy the α900 for any other reason but price, the α850 may also be not for you.
Sony Alpha 28-75/2.8 SAM
Together with the new camera, Sony has also released the 28-75/2.8 SAM lens, which was previewed at PMA 2009.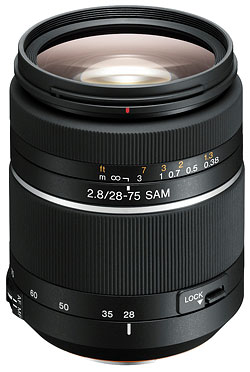 28-75/2.8 SAM
This lens is almost identical with the Konica Minolta 28-75/2.8, which in turn is a variation of the Tamron 28-75/2.8. Sony has updated the lens to feature the SAM in-lens AF motor and a zoom lock switch.

Categories: Cameras (Sony), Lenses (Sony) • Archive of all entries