No DSLR news on IFA 2008
August 28th, 2008 - 02:49:06 PM: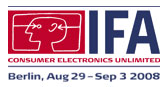 As already expected here Sony obviously introduces no new DSLR products on IFA 2008. The only new photo product is the compact camera DSC-T500.
Currently the rumors are that new DSLRs will be presented on a two-day press event on September 9th/10th in Edinburgh. The public will be informed afterwards or will be able to see the new products on Photokina at the latest.

Categories: Industry • Archive of all entries