Sony NEX news, NEX-7, NEX-5N
August 24th, 2011 - 10:33:03 AM:
It's a big release day! Together with the SLT-A77, Sony also announced new NEX cameras and accessories.
NEX-7 with Carl Zeiss 24/1.8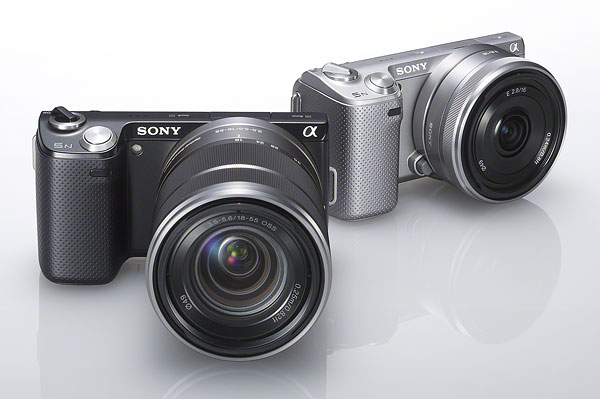 NEX-5N

These are:
A higher level NEX camera with more controls, built-in flash, iISO flash mount, 24 MP sensor and electronic viewfinder.
An update of the NEX-5 with the 16 MP image sensor of the NEX-3C.

LA-EA2

Lens adapter for A-mount lenses on E-mount cameras. In contrast to the LA-EA1, this one has a semi-transparent mirror, deflecting light to phase-detect AF sensors. It also features a built-in motor for screw-drive A-mount lenses. In short, a NEX-camera using this adapter works like an Alpha SLT camera. The new lens adapter only works with the NEX-5N, NEX-7 and NEX-VG20.

Electronic Viewfinder FDA-EV1S

This viewfinder with 2.4 million dots can be mounted on the NEX-5N to provide an image preview in strong ambient light. It can not be used with earlier NEX cameras.
The new cameras are expected to be in shops from September through to November.

Categories: Cameras (Sony), Accessories (Sony) • Archive of all entries