Sony releases SLT-A77, successor of DSLR-A700
August 24th, 2011 - 09:00:16 AM:
The rumors were intensifying over the last weeks, and finally Sony has released the successor to the DSLR-A700 today, the SLT-A77.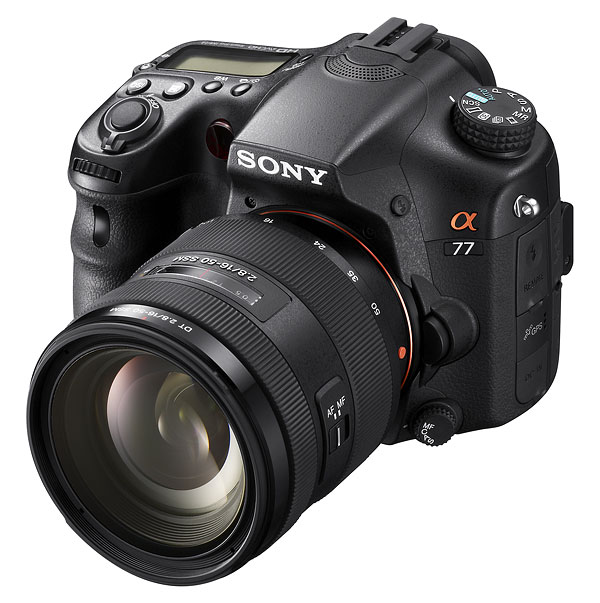 SLT-A77, AF DT 16-50/2.8 SSM

As the name suggests, it's a DSLR with a semi-transparent fixed mirror. 1/3 of light coming from the lens is directed to phase detect AF sensors, and 2/3 go through the mirror to fall on the image sensor. The advantage is that you get fast full-time AF. There is no black-out when taking still images, and you don't have to rely on slow contrast-detect AF when recording videos. Also, since the slow mechanical flip-up mirror is removed, very high frame rates are possible while keeping the camera affordable. In contrast to earlier live view implementations from Sony, you also do not need a secondary image sensor. The live view image is taken from the main sensor, and it's displayed on the rear display or an electronic viewfinder.

The slight disadvantage is that since only 2/3 of the light reaches the image sensor, the sensor signals need to be amplified a bit more to reach the nominal ISO rating compared to more traditional DSLRs, potentially increasing noise. Also, the semi-transparent mirror needs to be of high quality to avoid negative impact on image quality.

This principle of constructing a DSLR has been introduced already with the A55 and A33 (later replaced by the A35). Now Sony has released the A77, which implements this principle in a semi-pro body, with a more robust build, advanced features and higher specifications.

The main differences of the new camera compared to the lower-level SLTs are:
Higher resolution, 24 MP on an APS-C sensor.
Higher frame rate of up to 12 frames/s.
Better OLED electronic viewfinder with XGA resolution.
Larger, more robust construction, vertical grip (VG-C77AM), two control wheels, studio flash connector
Video recording with 1080p50/p60 and manual control
Compared to the DSLR-A700, the main differences are:
SLT with electronic viewfinder
Full HD Video recording
Higher number of AF sensors, and more cross-type sensors
Features that were introduced over time in lower-level bodies, like HDR, tilt/swivel rear display, face recognition, panorama shooting, GPS.
No CompactFlash slot!
Top LCD
SLT-A65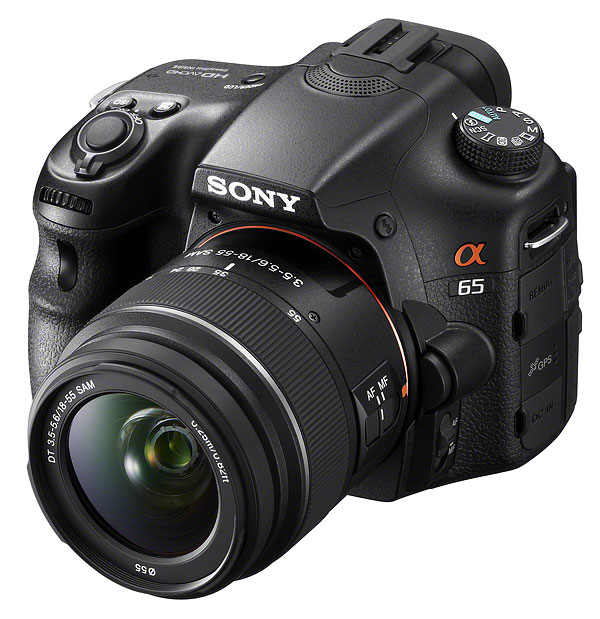 SLT-A65
Together with the A77, the SLT-A65 is released. It is very similar to the A77, with the following major differences:
Plastic body instead of magnesium alloy.
No top LCD
Fewer cross-type AF sensors
Slower shooting speed and minimum exposure time
No weather sealing
New kit lens AF DT 16-50/2.8 SSM
With the new cameras, Sony also released a new standard zoom lens, the AF DT 16-50/2.8 SSM. It features a large constant maximum aperture and a fast and silent SSM focus motor. The lens is also sealed against dust and moisture.
Both cameras and lens are expected to be available in shops in October/November.
---
Links:


Categories: Cameras (Sony), Lenses (Sony) • Archive of all entries